If you're looking for a batman car for kids, you'll likely start with ride-on vehicles. These toys are fun, engaging, encourage outdoor play, and come in many different themes and varieties for you and your child to choose from.
In addition, there's some great news: if a batman ride-on toy is what you decide you need, there are some quality options for all budgets.
Protect Your Neighborhood With These Batman Ride-On Cars
In this section, we'll show you some different batmobile toy vehicle options to get you started.
Hauck Batmobile Pedal Go Kart
Sporty 3 point steering for responsive, quick steering.

Adjustable bucket seat for multiple height kids.

Race styled pedals with rubber wheels & 8 ball style brake for better grip and smooth ride.

Handbrake for both rear wheels.

Front cover panel in hero design.
When your Go Kart needs a little extra Batman, the Batmobile Go-Kart is the right decision for you and your family! This Go Kart is modeled after the modern Batmobile and features a sleek, detailed front end that looks like the real thing – only a bit smaller.
Batman decals complete the Batman feel of this Go Kart. The handbrake halts both back wheels for extra control on wide and dangerous turns. At the same time, the adjustable bucket seat ensures an outstanding and smooth ride for crime fighters, both big and small.
The sporty design of this Go Kart makes it more appealing than other battery-powered batmobiles because the pedal power ensures a faster, smoother ride.
Last but not least, when you need an affordable and easy-to-maintain option for your little hero, this Go Kart is the way to go. At the same time, it isn't the cheapest Kart on the market, but it is undoubtedly of a grade A quality that will last for many years.
Check Price on Amazon
DC Comics Universe Batman Wheelies Ride-on
This batmobile ride-on car has many of the great, standard features of other indoor ride-on vehicles designed for children under two. It also has an excellent addition: the ride-on converts into a raceway for Batman cars or other toy cars! This ride-on is another superb option for indoor play for smaller children, especially when going outside isn't an option.
This batman ride-on car comes with two little Batmobile and Joker cars that your toddler can race down the front. They can also store them in the storage compartment under the seat and fold the raceway for another zoom around the house.
It also has cool batman sounds, flashing lights, and batman catchphrases. Though this ride-on only comes with two cars to race down the foldable speedway, you can purchase more in the form of Batman, Batgirl, The Joker, and Robin for added delight.
This car is an excellent, affordable choice for young kids, especially if they have friends to race cars together.
Check Price on Amazon
Batman Ride on Car- Exclusive Edition
Just like the Batman wheelies ride-on we talked about above. This exclusive batman ride-on car has the same features but a different design.
Batman Ride on Car- Exclusive Edition
Best Batman ride on car bundle comes with toy bag.

Ride-On converts into a raceway ramp

Includes two sculpted mini vehicles, Batmobile and Joker

Fold down the front of the Ride-On and line up the Batmobile and Joker race cars at the top

Features Batman phrases and sound effects Under seat storage and two cubbies to hold the race cars. The suggested age is 1 to 3 years old. Size 19.5 x 10 x 11 inc
Batman Batmobile 6-Volt Battery-Powered Ride-On
When you have a kid obsessed with the Batmobile's style and wants to feel like Batman riding the streets of Gotham in search of bad guys to catch, this is the ride-on for them.
This toddler's electric batman car ride on batmobile features a 6-volt battery that takes about 14 hours to charge and provides several hours of fun, 2.5 miles an hour of action for a single rider.
This electric ride-on batmobile car has a toddler weight limit of 55 pounds, making it perfect for kids under five.
It features a unique, realistic Batmobile styling to make any rider feel like they're in a real batmobile! This 6v Batman batmobile electric ride-on car also features working headlights making it one of the best batmobile toys for kids. Add a cape, a mask, some tunes, some crimes to bust, and a Batman-loving kid for best results!
Power Wheels Batman Dune Racer
While this Power Wheel doesn't have the sleek Batmobile features of the previously mentioned ride-on, it makes up in power and can easily travel on almost any surface. From wet grass to rocky terrain, the Power Wheels Batmobile Dune Racer can cross various terrains.
Just because this Power Wheels might not look like a Batmobile doesn't mean it doesn't act like one! With cool Batman decals and batwing front fenders, any Batman fan will enjoy the overall theme of this dune racer.
This car has a maximum speed of five miles an hour. It features "Monster Mode," allowing it to power along multiple terrains, including ruts, water hoses, rocks, and even medium hills. The frame is made out of sturdy metal and can handle up to 125 pounds without issue.
The best part? When your junior crime fighter wants to bring their Robin along, they can – there is room enough for two! Simply the best batmobile power wheels ride on for two kids.
Fisher-Price Little People DC Universe Super Friends Batman Ride-On
Not every Batman-in-training can adventure outside all of the time, especially in places where it rains a lot. Not every toddler is ready for an electric batman car or any powered ride-on vehicle but still wants to work on their criminal-capturing skills.
So what is a parent to do? Purchase a different and house-friendly ride-on vehicle instead, of course! The Little People batman car for toddlers is a fantastic, fun addition to any household with toddlers.
This little car has adorable features like phrases and sound effects, Batman music, and flashing lights to amuse its riders and friends.
A secret compartment under the seats provides a perfect place for all that covert Batman equipment, and a handlebar on the back of the vehicle ensures easy parental intervention for the over-excited toddler.
This ride-on is an affordable option for those with younger kids, as this ride-on is perfect for teaching kids the basics of ride-on equipment.
Batman Go Kart
Vrooom! Go Karts are wonderfully fun inventions that have come back into popularity in the last few years. They are slick, entertaining, no-battery devices that use bike pedals for all their forward motion, encouraging exercise and outside play! The innovative 3-point steering makes this Batman Go Kart a great way to patrol Gotham – or just your neighborhood.
This Go Kart would be a great addition to any family, especially one with multiple kids, for racing fun. A quick-response hand brake makes the speed easy to control, and an adjustable, padded seat ensures that almost any child will fit.
To answer your question, this Batman Go Kart comes with Batman features! Because it is entirely foot-powered, just riding on it builds strength and coordination in children four to eight years old – especially if they're racing! This Go Kart gives the other batmobiles ride-on toys a run for their money with cool decals and a slick, smooth black and blue appearance.
Fisher-Price Super Friends Batman Lights and Sounds Trike
Trikes are an excellent transitional tool between a bike and walking, so why not do some patrolling while you're learning?
This Batman Lights and Sounds trike is not only adorable and affordable, but it is also well-built for any child under the age of five.
With this trike, your toddler can fight for justice and outsmart their enemies while pedaling around the neighborhood. Using the light-up walkie-talkie, they can communicate with Batman to stretch their imagination!
With a storage compartment for a mask (or a pair of sunglasses), three adjustable heights, and working blinkers, this little trike is fun for all small fans of Batman.
Fisher-Price Power Wheels 12 Volts Battery-Powered Kawasaki Batman ATV
If your child needs speed and already has some battery-operated ride-on experience, this Batman ATV is an affordable, high-powered, and exhilarating option! While this ATV is built for younger children, the engine is big enough to support pre-teens and young adults easily.
Usually, a child's batmobile car sacrifices speed, but this powerful ATV can travel at a whopping six miles an hour. Sleek and well-constructed, kids can even use this Batman ATV for light off-roading and uphill fun.
The powerful 12-volt battery of this batman electric car ensures long, fast hours of entertainment. If your child is new to ride-on vehicles, the ATV can be locked in "low-power" mode so that it cannot go faster than 2.5 miles per hour. A fun pretend canon and blue-and-black accents complete this adorable yet functional Power Wheels product.
Batmobile Pedal Car Ride-on 1989 Batman Power Wheels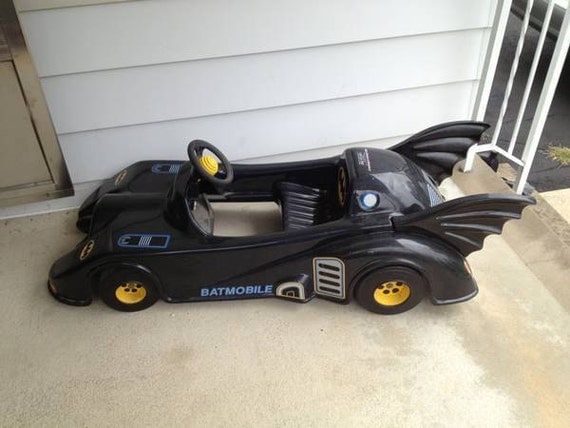 Are you looking for something a bit more on the original side? The name "Power Wheels" has been around since 1984, when the company started manufacturing battery-powered ride-on toys. However, newer versions are mostly made of plastic – if you want a metal ride-on, here's your chance.
Vintage batmobile pedal cars are making a comeback! They are usually made of quality materials that will not simply fall apart over time. The original Power Wheels cars were built to last forever.
Equipped with a new, safer 12-volt battery, this electric Batmobile car is ready to patrol the streets again with its sleek body design and batwing fins! Suppose you would instead purchase it for your collection. In that case, that's an option, too, as many of these Batmobiles – including this one on Etsy – is in excellent condition and will display quite nicely.
It's okay if you want to be a big kid, too – remember, you probably shouldn't ride in it!
Whether you're looking for a Batman ride-on for kids, yourself, toddlers, or even babies, you can find an affordable option that will please even the pickiest of Batman fans.
Which is your favorite batmobile ride-on toy? Do you prefer electric batmobiles or non-electric powered batmobile toys? Let us know in the comment section below.
You might also be interested in: